2020 continues to be the year of the stablecoin.
Both Tether (USDT) and Coinbase's USD Coin (USDC) saw sizable increases in market capitalization in April as crypto traders flocked to stablecoins in the wake of March's coronavirus-related market crash.
Tether, by far the most widely-used stablecoin, as well as the most-traded cryptocurrency, surpassing Bitcoin's 24-hour volume, now has nearly an $8-billion market cap, according to the crypto data analytics firm Skew.
USDC, the second-biggest, is now hovering around a $700-million market cap after skyrocketing in mid-March.skew@skewdotcom · Replying to @skewdotcom
16/.

USDT market cap is now nearly $8bln and grew 25% this month. Its price is trading structurally at a premium to US dollars indicating strong demand.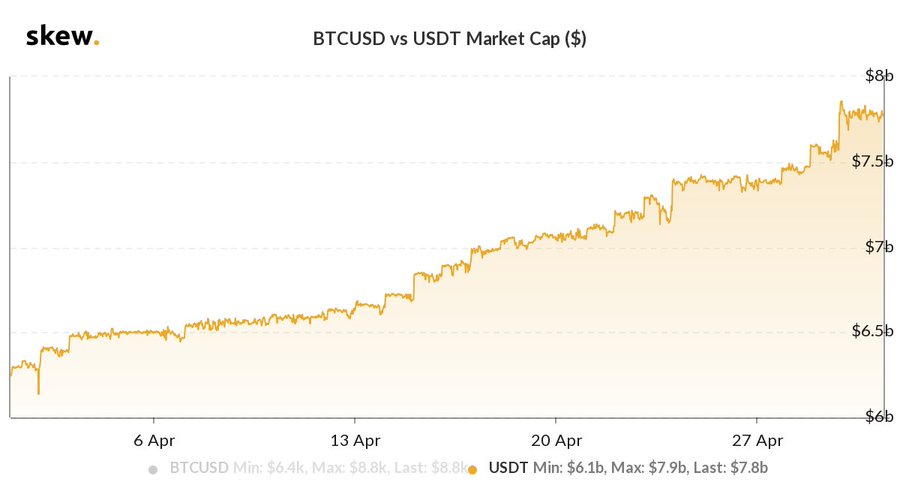 17/.

Same picture with USDC which is marching towards $1bln in market cap. Stable coins seem to be one of the clear crypto beneficiaries of the COVID crisis as the world is forced to accelerate digital adoption.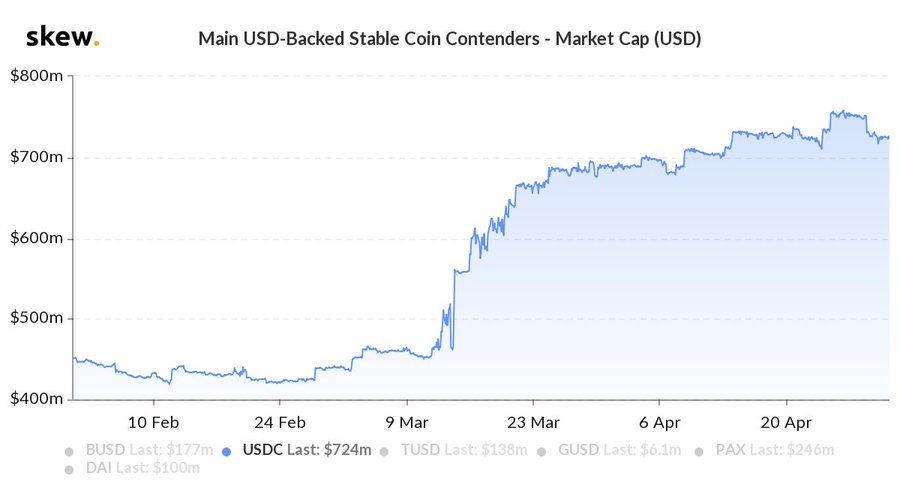 18Twitter Ads info and privacySee skew's other Tweets
In mid-April, Tether printed $120,000,000 new USDT as the crypto market rebounded. Designed as a bridge between fiat currency and cryptocurrencies, USDT is pegged to the US dollar, and traders often use it to escape crypto market volatility.
Tether, however, has been accused of minting USDT in an effort to manipulate the market and push prices higher, but the company says it simply creates new crypto assets when there's a rise in demand
It has also faced allegations of fraud and has admitted to being under-reserved for USDT at times, though USDT's market cap still managed to double in 2019.ADVERTISEMENT
USDC, by contrast, is fully banked, fully regulated and audited monthly by financial institutions.
April wasn't just a good month for stablecoins. Bitcoin managed to reclaim its losses from the March 12, 2020 crash, and tech companies also performed well in the market.
Says Skew,
"In April, markets looked past the initial sell-off: Tech did great led by Amazon when oil, travel & leisure struggled. Crypto community believes bitcoin is a clear winner as it is scarce and digital. But will the mainstream buy this narrative? Not quite there yet."
Author: https://dailyhodl.com/author/thedailyhodl/
Source: https://dailyhodl.com/2020/05/04/usdt-and-usdc-market-caps-swell-in-april-as-crypto-traders-flock-to-stablecoins/