Despite a recent sell-off, today we find the crypto market sentiment with a score it hasn't seen in at least a year. The combined moving average 7-day market sentiment measure, sentscore, for the top 10 coins is 6.23 – the highest score we've written down since starting this series a year ago. For comparison, it was 5.71 two weeks ago, according to Omenics, a crypto market sentiment analysis service.
The Cryptoverse woke up today to finding Bitcoin (BTC) falling well below USD 9,900, and below USD 9,700, currently (16:32 UTC) hovering at USD 9,685. This has left its mark on the market in general, and it's bound to affect the market sentiment. For example, despite this major jump we see happening over the course of the last week, the 24-hour average score has barely moved, and the tiny bit that it did move, it dropped.
In the last seven days, half of the top ten coins have seen a rise in their scores, and half have dropped. It's important to note another development we see for the very first time since starting the series: six coins are in the positive zones, with scores above 6, and with Bitcoin leading, having the highest sentscore of 7.5, while the rest are on the verge of the positive zone. The situation remains largely the same for the past 24 hours, except that XRP climbed just above 6, and Litecoin (LTC) fell just below. Again, for reference, it used to be quite common to have only BTC in the positive zone on the market's good days, perhaps one other coin every now and then, but this number has been increasing in the last few weeks.
Meanwhile, Ethereum Classic (ETC) has been pushed out of the top 10 list, with Tezos (XTZ)returning to it.
Sentiment change among the top 10 coins*:
Interpreting the sentscore's scale:
– 0 to 2.5: very negative
– 2 to 3.9: somewhat negative zone
– 4 to 5.9: neutral zone
– 6 to 7.49: somewhat positive zone
– 7.5 to 10: very positive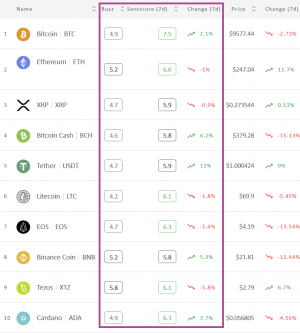 The sentscores of Tether (USDT) and Bitcoin cash (BCH) have risen the most in the past week. Tether has quite high scores in news (8.3) and technicals (6.9), while its social and buzz got neutral scores (4.9 and 4.7, respectively) and fundamentals a negative one (3.5). Similarly, BCH boasts 7.5 in news and technicals each and 5.2 in social, as well as 4.5 in buzz and 2.9 in fundamentals.
Daily Bitcoin sentscore change in the past month: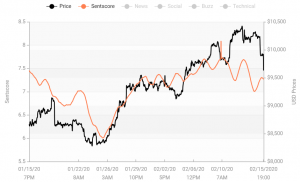 On the other hand, Litecoin's and Tezos's scores have dropped the most. Litecoin's highest scores are 8 in news and 7.6 in technicals, followed by 5.3 in socials. Its lowest scores are 4.3 in buzz and 3.4 in fundamentals. At the same time, Tezos has 8.8 in news, 7.6 in technicals, and 6.2 in buzz on the one hand, and 4.8 in social and 3.3 in fundamentals on the other.
When it comes to the 7-day average scores of the coins outside the top 10 list, a whopping ten are in the positive zone, each with a score of 6, while 16 more have scores above 5. None are in the negative zone.
___
* – Methodology:
Omenics measures the market sentiment by calculating the sentscore, which aggregates the sentiment from news, social media, technical analysis, viral trends, and coin fundamentals-based upon their proprietary algorithms.
As their website explains, "Omenics aggregates trending news articles and viral social media posts into an all-in-one data platform, where you can also analyze content sentiment," later adding, "Omenics combines the 2 sentiment indicators from news and social media with 3 additional verticals for technical analysis, coin fundamentals, and buzz, resulting in the sentscore which reports a general outlook for each coin." For now, they are rating 39 cryptocurrencies.
Source: https://cryptonews.com/news/crypto-market-sentiment-is-the-highest-it-s-been-in-a-year-5806.htm