In a sudden move in early Sunday hours (UTC time), bitcoin (BTC) price crashed around 10%, leaving traders perplexed. In the top 10, all coins, except tezos (XTZ), are down in double-digits.
At pixel time (04:50 UTC), BTC trades at c. USD 8,534 and is down by 13% in a day, erasing all weekly gains (-8%) and trimming its monthly gains (21.5%)
BTC price chart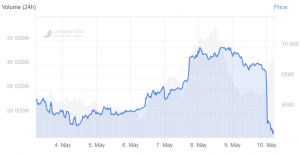 __
BitMEX XBTUSD Liquidations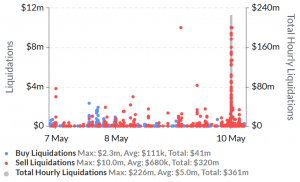 At the same time, ethereum (ETH), XRP, bitcoin cash (BCH), litecoin (LTC) are down by 12%-13%, also dropping by 10%-14% in the past week.
Bitcoin dominance, or the percentage of the total market capitalization, has slipped less than one percentage point, going below 66%.
The market crash happened two days before the third Bitcoin mining reward halving.
"We clearly see bitcoin-led strength, as the large-caps posted a 5% gain, while mid-caps — comprised entirely of altcoins — are actually down on the week. But the small-caps — the most speculative of the bunch — also posted strong gains," Weiss Ratings analyst Juan Villaverde noted earlier this week, stressing that when small-caps lead the market, investors are declaring a "risk-on" environment.
"This points to speculative buying ahead of bitcoin's halving, which centers around bitcoin itself, as well as the most speculative names in the industry, represented by the small-caps," he added, urging to prepare for volatility in both directions starting as early as Monday. It seems that it started one day earlier.
Reactions
The halvening is being priced in.111Twitter Ads info and privacy20 people are talking about thisPierre@pierre_crypt0 ·
What the fuck just happened ?Brian@CaramelKidder
Annihilating leveraged longs. Now going up1Twitter Ads info and privacySee Brian's other TweetsI am Nomad@IamNomad ·
holy shit.I am Nomad@IamNomad
i have bids that got filled that shouldn't have gotten filled.
LMAO. probably going to trade out of them and sit till halving now.43Twitter Ads info and privacySee I am Nomad's other TweetsFlood [BitMEX]@ThinkingUSD ·
Absolute mayhem, market turned to full blown scam in minutes, that was the final exit pump, and we fell for it, take out profits while we can, rebuy 7100hundo@BitcoinTo100k
instructions unclear opened 100x long131Twitter Ads info and privacySee hundo's other TweetsA v B@ArminVanBitcoin ·
Price now: $9,600. Dominance starting to drop. Looks like the halving could become a short term "sell the news" event. Watch our for articles about miners collapsing due to profit loss. Hashrate dropping, etc. All to create panic and drop the price even further. Hodl! #BitcoinA v B@ArminVanBitcoin
Confirmed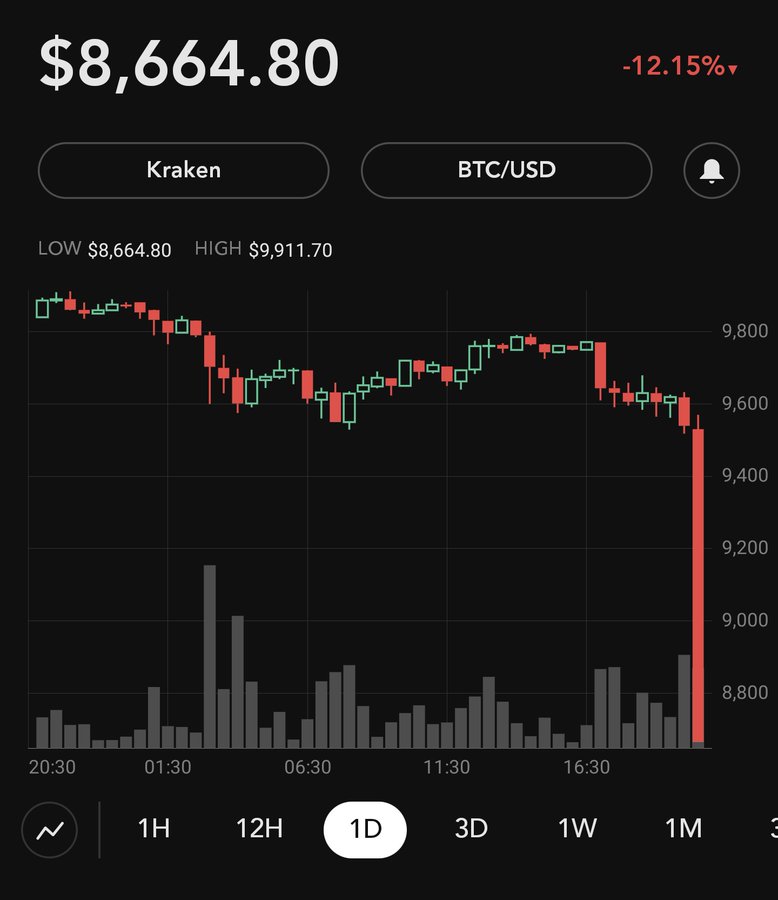 51Twitter Ads info and privacySee A v B's other TweetsTodd Butterfield@WyckoffOnCrypto · Replying to @WyckoffOnCrypto
I had shown a large triangle for $BTC and I think we are completing the wave D of that triangleTodd Butterfield@WyckoffOnCrypto
Wave D completed right on schedule.

27Twitter Ads info and privacySee Todd Butterfield's other TweetsViktor Bunin@ViktorBunin ·
Am I the only one that thinks these dumps are the result of incredibly blatant market manipulation? Not in an illegal way, mind you. Some folks just have enough capital to move the market at will because it's still so tiny.Richard Burton@ricburton
When you get to 11 figures you just want to feel something.21Twitter Ads info and privacySee Richard Burton's other TweetsHipster@Hipster_Trader ·
Bitcoin down $1,500 in less than an hour. Meanwhile at Coinbase
Couldn't buy on @CoinbasePro or @coinbase honestly kind of ridiculous I couldn't take advantage of buying I'm a long term investor and flash crashes like this are opportunity I personally look for8Twitter Ads info and privacySee S. Lazoja's other TweetsPierre Rochard@pierre_rochard
There's a way to adapt any fact pattern to your worldview and narratives. Sometimes it will be very convoluted, but there's always a way. https://twitter.com/peterschiff/status/1259319450588889088 …Peter Schiff@PeterSchiffLooks like some of the #Bitcoin speculators who bought in anticipation of the halving couldn't wait for the actual fact to start selling. As more sellers jump the gun, by the time the fact occurs, the profits those buying the rumor were hoping to cash in on may already be gone.54Twitter Ads info and privacySee Pierre Rochard's other TweetsAthena Crypto Bank@AthenaBank ·
Deleverage??? BINANCE Close my SHORT After i make 7 times my investiment. What's going on!? Where is MY SHORT? THE BTC DROPPED TO 8000 WHO PAYS THE DIFFERENCE? maybe @cz_binance even now the price is lower than what they used for close my position. @APompliano this is legal?
You guys didn't read the contract did you? The deleveraging happens on a down move if you don't meet margin because you are essentially leveraging your BTC to buy USDT on the futures. You can read the specifics of how it works on binance.95
Author: Linas Kmieliauskas
Source: https://cryptonews.com/news/bitcoin-dives-erasing-all-weekly-gains-altcoins-bleed-too-6510.htm